Short-term Japanese language training course
(adult)
The "Short-term Japanese Language Course" is a course for those who have just arrived in Japan to learn the Japanese Language from scratch.
The lessons are held twice a week for a total of 20 sessions (about 3 months). The text is an original selection of the most essential real life situations. Learn Hiragana, Katakana, and 50 Kanjis.
We offer face-to-face courses at the FIRA salon (see map) and online courses through Zoom. The courses are subject to change depending on the spread of infections of COVID-19. Please check the details upon application.
* In order to prevent the spread of the new coronavirus in the Face-to-Face Classroom, we limit the number of students and maintain an attendance register. The participants are asked to refrain from eating and drinking in the room. Also, they are asked to check their body temperature, wear a mask, and disinfect their hands. We kindly ask for your cooperation in this matter.
Course Program
| | |
| --- | --- |
| Lesson 1. | First greeting and self-introduction |
| Lesson 2. | Daily greetings and self-introduction |
| Lesson 3. | Ordering and paying at restaurants |
| Lesson 4. | Inviting friends to eat, accepting the invitation |
| Lesson 5. | Inviting friends to go shopping, declining the invitaion |
| Lesson 6. | Asking about train transfers and destinations |
| Lesson 7. | Asking directions |
| Lesson 8. | Explaining your destination/ directions to the taxi driver |
| Lesson 9. | Asking about the parts of public announcements that you did not understand. |
| Lesson 10. | Stating your business through the telephone or at various reception desks. |
| Lesson 11. | Talking about family and daily life |
| Lesson 12. | Giving a brief impression |
| Lesson 13. | Congratulating and showing gratitude |
| Lesson 14. | Expressing your requests to a barber or hairdresser |
| Lesson 15. | Explaining a medical condition |
| Lesson 16. | First aid (sudden illness, accident, earthquake, fire) |
| Lesson 17. | Talking about your country |
| Lesson 18. | Comprehensive Review |
| Spare | Taking a walk, Grammar, etc. |
Date and Time
Tuesday and Thursday 10:00 am to 12:00 am
"Face-to-face classes" Capacity 8 people
"Online classes" Capacity 5 people
Map
FIRA Salon
3-9 Minami-honcho, Funabashi City. Next to "Sanei Aviation Service" https://sanei-as.com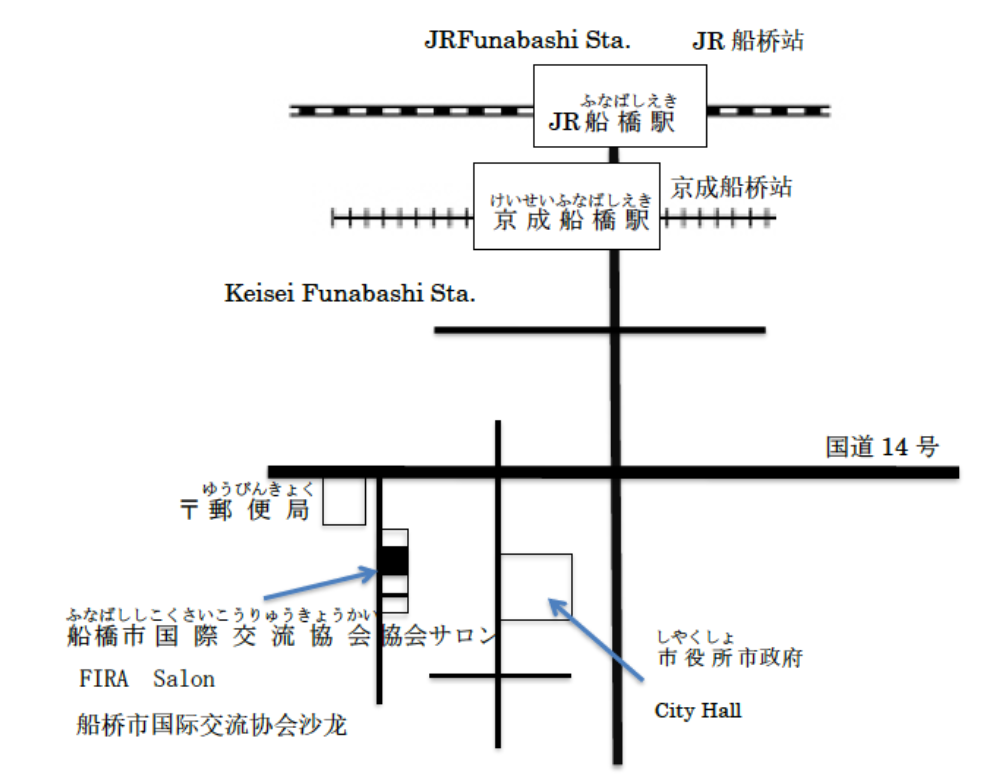 Cost
[1] + [2]. People who are already members only need to pay [2]
1. Funabashi International Relations Association Membership Fee
2000 yen (Once a year, valid from April to March of the following year.)
* Student membership fee: 1000 yen. For those who are attending high school, vocational school, junior college, university, graduate school
Please read the terms and conditions of the association.
Terms and conditions (PDF)
2. 1 Entry fee
20 classes for about 3 months
4000 yen
(Original textbook fee including a downloadable PDF file)
About refunds
Once paid, the membership fee and participation fee will not be refunded if canceled for personal reasons.
If a class cannot be held due to unforeseen circumstances, such as a disaster, or the circumstances of the Association, the class will be rescheduled.
Durations
| | |
| --- | --- |
| Period of the Course | Application period |
| May to July | March 10th to April 9th |
| September to November | July 10th to August 9th |
Flow from application to attendance
Select the course you want to apply for from the course table
 ↓
Fill out and send the application form
 ↓
A notification for the receipt of the application form will be sent by email.
 ↓
You will be sent a payment number along with instructions by email.
 ↓
Pay at a convenience store (Lawson or Family Mart) (within 10 days from the application)
 ↓
Your payment confirmation, attendance notification, and Zoom ID will be sent by email
 ↓
Download Zoom and join.
Confirm the application form
Check the mark of the class you want to study
* Please be careful not to mistake the level and time as you will apply with the mark.
* Please set the settings of your computer or smartphone so that you can receive emails from firasystem@gmail.com. If you have junk e-mail settings or rejection settings, you will not receive important confirmation e-mails. If you do not receive the automatic reply or payment instruction email and you do not pay, your application will be invalid.